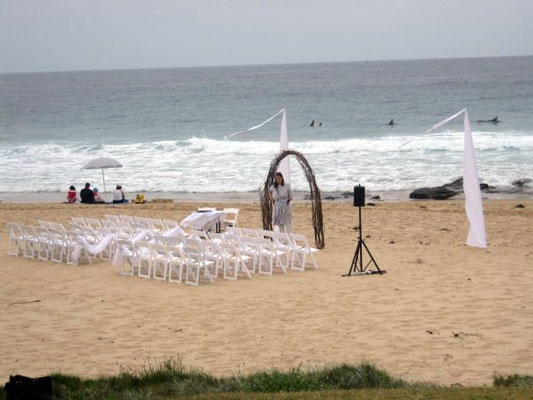 Comments
How We Met:
Aaron and I met five years ago at Castle Hill Tavern. The night was actually quite boring and my friend and I were contimplating leaving until I caught Aaron's eye on the dance floor. He came over and after getting my name wrong twice! He asked for my number and we went out on our first date a week later
The Proposal:
Our first date was informal - a day out waterskiing on the river so it seemed fitting that both the proposal and wedding happened near the water too! Aaron spent weeks organising the hire of a yacht in Sydney Harbour. He told me it was a free night out that his boss didn´´t want so I wasn´´t suspiscious. We pulled in to a private beach where a group of young guys were on another boat playing loud music "highway to hell" so we moved on to the next beach and during dinner Aaron got on one knee and asked me to marry him!
Wedding Dress:
My wedding dress was from Essence. It was a white, low back dress - very simple and flattering. It had beautiful subtle beading across the front and thin straps.
Accessories:
Accessories I kept to a minimum as I didn´´t want to look back in years to come and look outdated so I kept everything simple! I wore diamond earrings from a friend - which was also my something borrowed, a white plaited headband around my head and my wedding & engagement ring. My bridesmaids were much the same, I bought them pearl earrings and they wore tiffany necklaces for the reception.
Groom's Attire:
We had a fairly simple ceremony on the beach so we wanted colours to match the scene. The groom & groomsmen wore dress pants in a caramel colour and crisp white shirts bought from an independant shop in Parramatta. We also got them some straw hats for a few photos and some silver aviators - they were big top gun fans growing up!!!
Bridesmaids
My bridesmaids dresses also complimented the beach scene. They were made by Raylia Designs and were silk with a lace overlay and corsett back. They were strapless, knee length with a beautiful tulle trim around the seam.
Wedding Theme:
The wedding was beach theme - beautoful dresses and no shoes! We kept everything simple so our photos wouldn´t be dated after hanging in our lounge room for many years to come! We went with lots of gold, champagne & white colours. Our reception venue, City Beach Function Centre complimented this perfectly and did not have any overpowering colours in their decor that would have clashed with our theme.
Flowers:
My flowers were from Flower Bud in Wollongong, I had white oriental lillies & roses in my bouqet which was a cascading style. My bridesmaids had stem posy style and were the same flowers as my bouquet.
Ceremony Reception Decor
For our ceremony we hired 40 or so white folding chairs for guests and others stood for the ceremony. We had a beautiful wicker arch and tulle to create an aisle feel connecting the chairs. We also had white rose petals scattered down the aisle.
Transport:
We had a small bridal party of 6 (including ourselves) so we hired a 7 seater limo to transport us to various locations for photos in between the ceremony and reception. We had so much fun driving around with our closest friends & family!
Bomboniere:
To keep costs down we opted for 1 between 2 for those that came in couples. In keeping with the beach theme we gave our guests shell bottle openers - something a bit practical as a keepsake from the day.
Cake:
Our cake was from Cake Art in Rouse Hill Sydney, one of my close friends offered to pick it up and drive it the 2 hours to Wollongong! She got it there in one piece though! It was a stunning white cylinder shapped, 3 tiered cake with gold flowers that matched my bouquet.
Entertainment:
We hired a band called Peppermint Jam. I had seen them perfrom at other weddings and from the moment they start singing the guests don´t leave the dance floor! This was my absolute must for our day as I love live entertainment - if guests didn´t feel like dancing they could sit and enjoy the performance, playing only great old songs from the 70´s, 80´s & 90´s! We had our song requests on CD for key moments like bouquet toss and our first dance.
Honeymoon:
Our honeymoon was in Thailand. We went to both Phuket & Koh Samui - my husband had never been overseas and we both love Thai food. It was a great two weeks spent eating, drinking and shopping together! I wanted to forgo the honeymoon but my mum said she always regretted not going on one after she got married - best advice!
Special Moments:
Dancing our first dance together that we had lessons leading up to the wedding day. Also having my brother and best friend MC the wedding reception meant the night was full of laughs and made it all the more personal. We also had the best man and one of my bridesmaids sing songs that had special sentiment to both my husband and I.
Tips:
Just relax! Anything that doesn´t go to plan becomes a great memory afterwards! Once the day starts you´ll find you don´t care who sat with whom or what colour the flowers were - walking towards your husband to be is the greatest feeling in the world.