Relax and entertain were the key themes at Meghann Roberts and Max Hoult's Bali beach wedding.
The handmade recycled invitations, barefoot bridesmaids and beach club reception followed by a pool party are just some of the reasons why Meghann says her wedding was incredibly relaxing.
"We are still confused why everyone says wedding are so stressful," laughs the bride.
Meghann, 27, and Max, 23, began a holiday romance while British-born Meghann was studying in Sydney. Dramatically, but without hesitation, she packed up her Australian life to return to her homeland where Max was surf instructing. The pair now reside in Avalon, Sydney, however adore travelling and are now making their way around Indonesia as part of their four-month honeymoon.
Their intimate wedding of 22 guests on September 6, 2013, took on a relaxed beach theme, reflecting the pair's cool nature. "We hired three stunning adjacent yet individual villas on Nusa Lembongan, a small island off Bali, where our wedding extended to a few weeks of hens/stags, diving, surfing, exploring, relaxing and lots and lots of laughing," recalls Meghann. "Two families and groups of friends intermingled forming new, lasting friendships."
Dramas including a runaway veil and dropped wedding cake didn't dampen the evening which was held at The Beach Club on Bali's Sandy Bay. "We ate and drank until the party music started then shortly after the fireworks, first dance, bouquet and garter throwing, the dancing began," says Meghann.
"Before long our wedding reception was a full-blown pool party…the world's best our guests claim."
"One of our favourite features is our invites. Lovingly handmade and designed by myself, the best part was I acquired all the card from an office clear-out at work which was going to be thrown out," says Meghann. The couple saved hundreds of dollars adopting a DIY approach.
Meghann's stunning beachy-feel gown surprisingly wasn't always so. "My dress was hideous and bought on sale… only because I loved one detail – the blue beading," she smiles. "I took it to their dressmaker and after numerous meetings wanting conflicting styles, I ended up with my 'tight but flowy' stunning dress which I was thrilled with."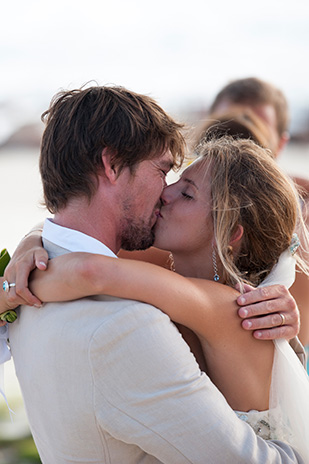 "A few dramas didn't stop the enjoyment, only adding to the memories." Meghann refers to being chased down by a local dog, losing her veil to the rocks and the wedding cake being dropped as a result of the same dog giving the staff a fright!
The couple surprised their guests with a fireworks display. "This was right after Max and I set free our eco-friendly love lantern," beams Meghann. "We organised our wedding without too many preconceived ideas and ended up with the simple relaxed atmosphere we always wanted."
Photographs courtesy of David Burden Photography.
Featured Suppliers:
Bomboniere: The Beach Club / Brides Accessories: Bride's mum / Brides Gown: Marry Me Bridal and Elizabeth Sparks Dressmaker / Brides Shoes: Witchery / Bridesmaids Accessories: Mundaka Jewellery / Bridesmaids Dresses: Paper, Scissors, Frock / Celebrant: Heather Charlton / Ceremony Music: Own playlist / Flowers: The Beach Club / Grooms Attire: Tommy Bahama / Grooms Shoes: Tommy Bahama / Groomsmen Attire: Tommy Bahama / Groomsmen Shoes: Tommy Bahama / Hair: Maid of honour / Honeymoon: Indonesia / Invitations: DIY / Makeup: Bridesmaids / Rings: Michael Hill / Venue: The Beach Club, Sandy Bay (Bali) / Venue Decor: The Beach Club / Wedding Night Venue: The Beach Club - Casa Del Mar
Comments