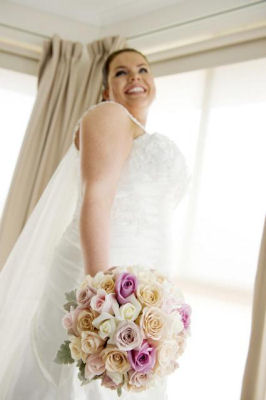 Comments
How We Met:
Anthony and I met through a Victorian Car Club, I was a member of staff and we had mutual friends. A friend bought a VH Commodore and Anthony being a Mechanic was asked to help out... so over the build process we fell for each other!
The Proposal:
Anthony designed my engagement ring and had it custom made. He had it hidden in his cars centre console for 2 whole weeks before he popped the question! We went out for dinner on Saturday October 24th 2009 and went for a drive down to Elwood Beach, sitting in the car he told me how much he loved me, pulled the ring out from the centre console and followed it up with "so, are you going to marry me?"
Wedding Dress:
I wanted something fairytale, something princess. So when I went into Fairytales Bridal Boutique in Moonee Ponds and tried on my gown, I KNEW it was the one! It´s an ivory A line Essence gown, with plenty of detailing and I just love it!
Accessories:
I love my wedding jewellery! i wore a pair of diamond drop earings from Michael Hill, with a gorgeous white gold scalloped edge necklace and a beautiful bracelet Anthony had given me the day before engraved with "Krys & Anth 23.10.10".
Groom's Attire:
Anthony was never a fan of ties, so as a result he didn't have to wear one! The boys wore a subtle pinstripe black suit and an ivory shirt with an open collar.
Bridesmaids
My girls wore gorgeous black full length dresses from Daniela's (Mr K Design), lovely sparkly flats from Novo (as my Matron of Honour was 34 weeks pregnant) their hair was up, with gorgeous drop earrings. They looked absolutely amazing!
Wedding Theme:
We didn't set out to have a theme, but I think in the end what we had was soft elegance. Black, ivory and pale pink were our colours with lots of bling!
Flowers:
My flowers were everything I had dreamed of! My bouquet was a posy of soft cream and pink roses and my girls had posies of soft pink and white roses, lizzies and fuchsia freesias.
Ceremony Reception Decor
For our reception, we had white table cloths, chair covers and black satin sashes. For the centrepieces we had gorgeous silver mosaic vases filled with a low posy of gorgeous flowers to match our bridesmaid's bouquets. The vases were surrounded by unscented soy tea light candles. The bridal table had short mosaic candle holders filled with roses and surrounded with candles, and we also had a lovely arrangement of roses in the centre of the table.
Transport:
I arrived in a silver 300c limo, while the boys arrived in a white 300c Sedan. Our getaway car was a silver 300c sedan, which was decorated in just married cans and personalised wedding ribbon as a surprise!
Bomboniere:
For our bomboniere, we really wanted something our guests didn't feel compelled to keep. So we had 3 black chocolate hearts in a clear box with an ivory ribbon.
Cake:
Anthony's incredibly talented Aunt made our cake, it was a 4 Tier Mud Cake with Ivory Icing, black ribbon, a twin heart cake topper and lots of bling!
Entertainment:
We had the most amazing band ever! They're called Trigger Cover band and they don´t normally play Weddings (and you will normally find them playing at Bridie O'Rileys on a Friday night) but they nailed it and were fabulous!
Honeymoon:
For our honeymoon we spent 13 glorious days on the South Island of New Zealand, we both had an amazing time and are in awe of how much of a stunning place New Zealand is!
Special Moments:
We took some advice from some lovely ladies off Easy Weddings -- we took a few moments to ourselves! We went for a stroll along the lake and sat and just talked. It was so lovely -- our first private moment as Husband and Wife!
Tips:
Definitely take that special moment for yourselves! The day flies so make the most of it! Make sure you have someone there on your day for people to go to if there is a problem; you don´t need to worry about it on your day! If something does go wrong (for us, our buttonholes didn't show up) don´t let it worry you!! Honestly, as much as you won´t believe me -- IT WON'T MATTER!