count: 0
final comp type:
latest ending comp date:
todays date: 2021-04-10 12:06:26
this is when the voting should NOT show
2021-04-10 12:06:26 -
The year Jodie Roots and Christopher Jennings married was "the best year ever," according to the newlyweds.
Not only did they welcome their first child Oakley into the world, they were married at their barn wedding on September 12, 2015. "We had Oakley as our page boy for our wedding day in September — he really did look the cutest," smiles Jodie, 23.
The Great Yarmouth couple spent many nights preparing for their big day, a task Jodie says Chris, 26, will be glad to see the back of! "We spent a lot of evenings when Oakley was in bed, making flowers, signs and various decorative bits," says Jodie. "I can't say Chris enjoyed painting palettes and fluffing up paper pom-poms."
Their wedding had a family focus, making sure there was plenty to keep their 85 guests happy. "We both wanted a laid-back type of day that was fun and wasn't overly formal," explains Jodie. "We opted for an ice cream cart instead of canapes, jugs of Pimms, sack races and tug-of-war to keep the kids and big adult kids entertained."
Jodie and Chris honeymooned in Cancun.
Photos courtesy of Beverley Harrison Photography.
"My veil and jewellery was borrowed from my sister," says Jodie. "She also wore them at her wedding when I was just 10!"
The groom and his crew were dressed in silver-grey three piece suits by Next.
Classic Clara provided the elegant transport on the day.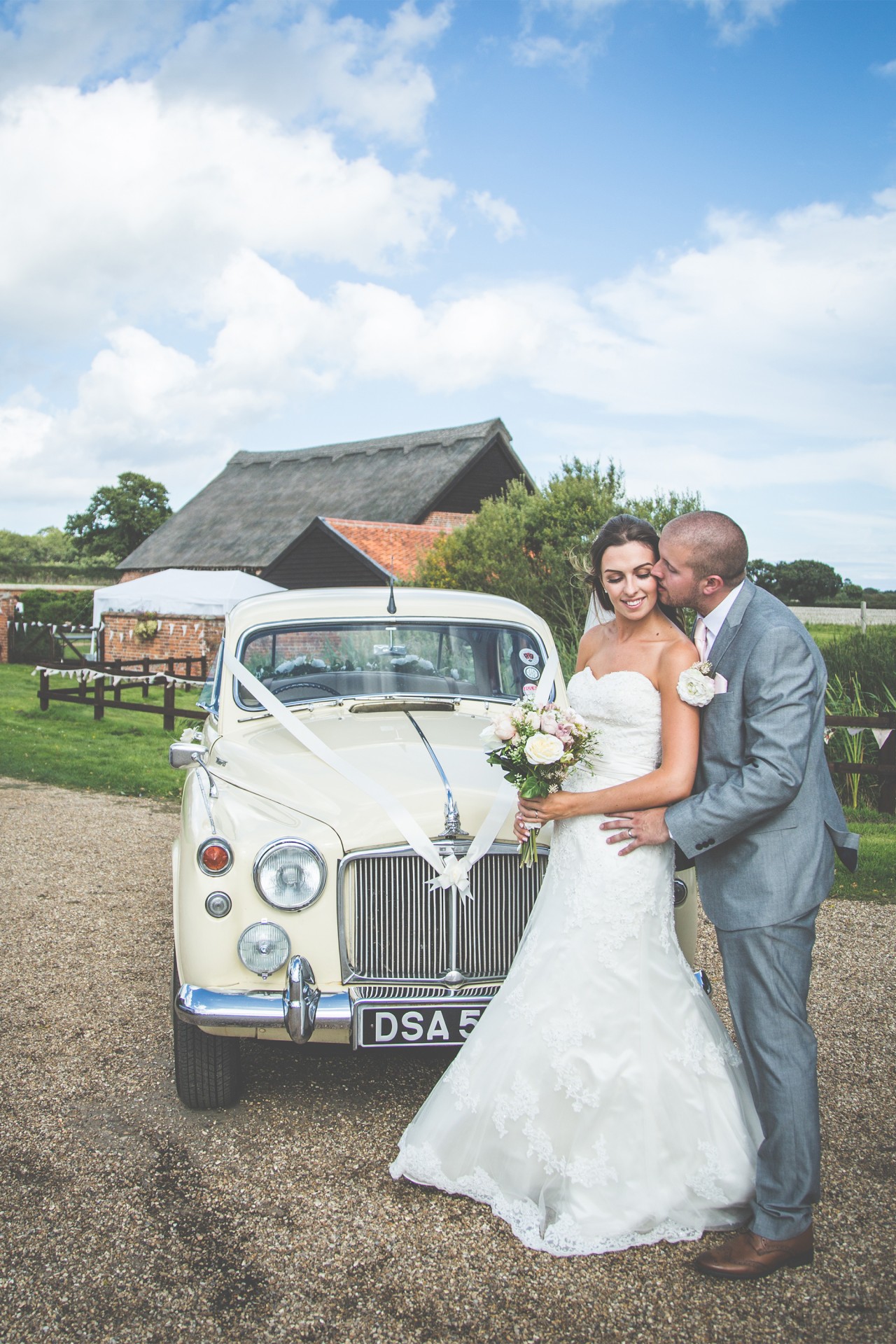 "I really wouldn't have changed a thing about our day," says Jodie.
Featured Suppliers:
Bomboniere: Tesco / Brides Accessories: DIY / Brides Gown: The Suffolk Wedding Dress Exchange / Brides Shoes: New Look / Bridesmaid Shoes: Miss Guided / Bridesmaids Accessories: John Lewis / Bridesmaids Dresses: Closet Clothing / Cake: Vanilla Chilli / Caterer: Adrian Clarke Catering, Daisy Grazing / Ceremony Music: Playlist / Entertainment: Jonny Goode, Sounds Like Entertainment / Flowers: AGM Wholesale / Grooms Attire: Next Retail Ltd / Grooms Shoes: Next Retail Ltd / Groomsmen Attire: Next Retail Ltd / Groomsmen Shoes: Next Retail Ltd / Hair: Lauren Ratcliffe, Vanity Lain Hair Consultants / Honeymoon: Cancun / Invitations: Handmade / Lolly Buffet: DIY / Makeup: The Makeup Company / Pageboy Attire: H&M Baby / Photographer: Beverley Harrison Photography / Rings: Tombland Jewellers / Transport: Classic Clara / Venue: Woodfarm Barn / Venue Decor: DIY / Videographer: DIY / Wedding Night Venue: Carlton Manor