Another spectacular wedding album by Adelaide photographer B Captured by Ky Luu.
(You may remember the extraordinary images we featured from Faith & Michael's steampunk wedding.)
This time Ky had loads of bright colour to work with in the rainbow wedding of Mildura artists Kirbi Kennewell and Nicholas Stamp.
Whilst the bridesmaids wore strapless ruffle dresses each in a different colour and their partners in ties and Converse to match, Ky also had the Broken Hill Regional Art Gallery – the location of Kirbi's first ever art exhibition and the place where she would eventually say 'I do' – as an awe-inspiring backdrop.
An icon of the arty couple's relationship which became the showpiece of their creative theme was the paper crane. Four thousand origami birds in an array of colours hung from branches on every table (the very branches from the tree under which the pair had their first kiss!) They lit up the reception hall and sat in cascading formation down the quirky wedding cake.
Twenty-nine-year-old Kirbi explains, "From the day we met at university, Nick [28] has made me paper cranes out of anything he could find and I have kept every one of them to this day."
She adds, "Our friends all helped to make our colourful cranes for months prior. Quite often the groomsmen sat in our lounge room watching The Footy Show, all with a book to lean on and a pile of coloured paper. It was not unlike that of a mothers' quilting club and is probably what I will miss most of all."
The pair celebrated their unique style with 149 guests, choosing an eclectic selection of music, including, aptly, Kermit the Frog's 'Rainbow Connection.'
Kirbi says, "The groomsmen all wore Converse Chuck Taylors in the colours that matched their partners' dresses. This was by far, one of the hardest parts of our planning though it had the most rewarding results."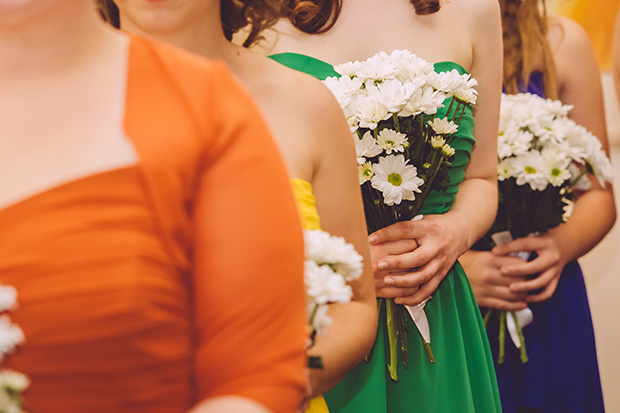 Kirbi, who  majored in photography, says having the wedding photographs taken was her favourite part of the day. "Ky was not intrusive at all but still captured every moment there was to capture… one of our images went toward him winning Australian Photographer of the Year."
Nick, a performing arts teacher, put his dramatic skills to use at the reception, orchestrating a rendition by ukelele of the song 'You & I' that by the end, saw the entire room serenading the bride.
"This was not just a day for Nick and I, but for all of our guests," beams Kirbi. "We had more fun in that one day than I've had in my whole life! It is absolutely indescribable."
Photos courtesy of B Captured by Ky Luu.
Featured Suppliers:
Bomboniere: Bell's Milkshake Bar / Brides Accessories: Georgini / Brides Gown: Henry Roth Australia / Brides Shoes: Novo / Bridesmaid Shoes: Oscar's Country Shoes / Bridesmaids Dresses: Alfred Angelo / Celebrant: The Salvation Army Broken Hill / Ceremony Music: Own playlist / Ceremony Venue: Broken Hill Regional Art Gallery / Entertainment: Own playlist / Flowers: The Wild Bunch / Grooms Attire: Connor / Grooms Shoes: Converse / Groomsmen Attire: Connor / Groomsmen Shoes: Converse from Sportsco & Ebay / Hair: Silhouette / Honeymoon: Flight Centre / Invitations: DIY / Makeup: Allison Neville / Reception Venue: Broken Hill Entertainment Centre / Rings: Hammertons Jewellers / Transport: Buses R Us / Venue Decor: Invite2Decor / Wedding Night Venue: The Astra Broken Hill
Comments