Here's a quirky vintage wedding that's a little off-beat, but no less serious as far as the vows that were made.
Newcastle's Angela Ekert, 29, married Rowan Gazzard, 30, within 100 metres of the very spot where he proposed at King Edward Park. In the company of 65 nearest and dearest, it was also the place where they shared a picnic first-date and so to them it was the perfect patch of grass on which to say 'I do'.
"I was not one of those girls who daydreamed about their wedding day," says Angela, and staying true to themselves for the occasion was paramount. Hence why she (secretly) carried one of her beloved cameras down the aisle.
"I have a passion for taking photographs and documenting special events," explains Angela. "I have at least one camera with me at all times (Confession: It's usually more like six cameras and many rolls of film much to Rowan's bewilderment!) and I wanted to take photos to remember the day from my perspective."
Accompanied by both her parents, when Angela reached Rowan at the altar, she was overcome with emotion.
"I looked around and saw smiling faces of the people I love. How could I not capture that on film? After taking the time to enjoy and experience the moment, I lifted my camera to the surprise, cheers and knowing laughter of Rowan and our guests."
"I'm so glad I was brave enough to do this. While it was unconventional, it was one of the best decisions I made."
Among the other quirks of this celebration were the mismatched bridal party, a 'bridesman', red shoes in honour of David Bowie and a vow renewal, in Vegas, by Elvis, all streamed back home via webcam.
Love it! Thanks for sharing your style!
After trying on several long (and beautiful) wedding gowns but feeling like she was "wearing a costume," Angela was delighted to find a tea-length Justin Alexander gown that suited her figure – and her personality. "I had my first actual 'I feel like a bride' moment. I smiled, I cried, I twirled. I bought it. I'm so glad I trusted my instincts."
 With Ranunculus flowering the day Rowan proposed, and Sweet Pea a nickname for Angela by her late grandmother, the beautiful bouquets held sentiment in the blooms that were included.
Angela says, "We gave the groomsmen black bow ties to wear. Despite some initial hesitation, they all have to admit they looked downright debonair!"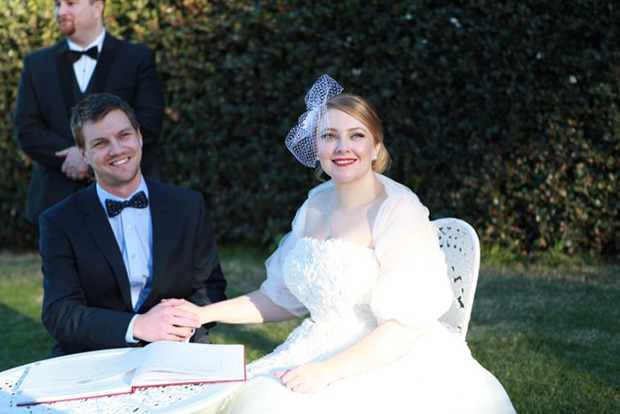 The bride paid homage to the couple's mutual love of David Bowie by designing her own pair of red silk shoes at Milk & Honey. "In his song 'Let's Dance,' Bowie sings, "Put on your red shoes," so of course, I had to have red shoes!" she says.
"We love our friends for who they are," says Angela. "With that in mind we gave the bridal party creative licence to style their own outfits for the wedding." For the girls there was just one criterion: Wear a dark blue dress they could twirl in.
"In honour of the date, each table was allocated a translation of the number four, including quatre, vier and quattro," says Angela. "The table numbers were an excellent conversation starter as guests tried to decipher the 'code' or demonstrate their linguistic skills."
"Your wedding day will be one of the most memorable, happiest days of your life," says Angela. "The most important part however is the vows you make to one another. Never lose sight of that."
Photos courtesy of Little Black Bow Photography.
Featured Suppliers:
Bomboniere: sticky / Brides Accessories: Witchery, DIY veil / Brides Gown: Justin Alexander from Brides to Be / Brides Shoes: Milk & Honey / Bridesmaid Shoes: Tony Bianco, I Love Billy, Juicy Couture / Bridesmaids Dresses: Miss Brache / Ceremony Music: Own playlist / Ceremony Venue: Kind Edward Park / Entertainment: Funky Doh Da's / Flowers: Susie & Frank Clarke / Gift Registry: Wishing well / Grooms Attire: Ben Sherman / Grooms Shoes: Julius Marlow / Groomsmen Attire: Tarocash, Myer / Hair: Couture Salon Boutique / Honeymoon: USA / Invitations: DIY / Makeup: Yvette Lamborne / Reception Venue: Longworth House / Rings: Michael Hill / Venue Decor: DIY / Videographer: Little Black Bow Photography / Wedding Night Venue: Chifley Executive Suites
Comments